The Teflon Fonfara Story
by
Petra Silie
[
german version here
]
Overview:



The Stuttgart Savage
The Stuttgart newspaper called him the "cult figure of the Stuttgart savages". What happened and how did it all start?
An apprenticeship at the daily paper and art studies paved his way into advertising, and already in young years, he made headlines with wild ideas. He bought a noble, massive oak coffin, and in 1978, he opened "Stuttgart's first coffin rental".

The Stuttgart Coffin Rental
Teflon Fonfara recounts: "In fact, I only rented out the coffin once for a party, but the advertising success between Hamburg and Vienna was fantastic". While Germany's most popular magazines "Stern" and "Spiegel" were quoting his small coffin rental company advertisement ("Coffin rent only 100 Marks a night!"), he played rock'n'roll and later in the eighties, he played in Neue Deutsche Welle* bands (*new German wave).

The First Recording
With friends, he recorded two titles in the Bauer studio in Ludwigsburg within two hours. With this title, the band applied in "Talentschuppen", the only TV show for young artists at that time. Teflon Fonfara: "We were invited to Baden-Baden for the preproduction, the most important German hit producers were in the audience. When I turned on my distortion module, they covered their ears and we were bundled out."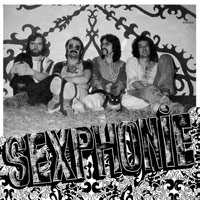 The First Album
In 1975, Teflon Fonfara published his first long-playing record "Sexphonie", a colorful mix of ethno, acid, pop and guitar noises.
The album did not become a success, too wild, too shrill, too avantgarde. Decades later, the US market discovered this rare album as a "special jewel of the German Krautrock era" (according to English music author Alan Freeman). Originals were sold at high collector's prices, and 41 years later, the Spanish label Guerssen Records republished the cult work SEXPHONIE as LP and CD.
In 1982, the two albums "Inge in Venedig" (Teflon Fonfara & Maik Glemser) and "Mein Leben ist ein Werbespot" (Originalton) followed.
| Video SDR |

The Artificial Name
At that time, many artists and also bands adopted modern sounding names with a "plastic image", and this was when the name "Teflon Fonfara" came up for the first time.
"Teflon Fonfara" is a pseudonym that has meanwhile been registered in his passport. "Fonfara" is his real last name.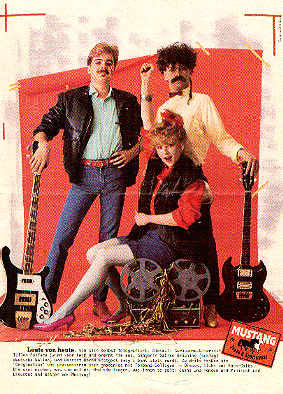 It began with a nationwide advertisement for Mustang jeans: Teflon Fonfara is photographed with his band ORIGINALTON. The text says: "Teflon gets hot, but he does not stick".
21 years later, he got a juridical problem due to his name: in 2003, the Swiss chemical group DuPont wanted to forbid the use of the name "Teflon", but the group did not succeed in this, and he continues calling himself "Teflon Fonfara".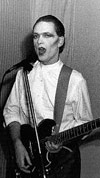 From the Indoor Swimming Pool Party to New York
In 1983, he rented the Leo Vetter Bad (a public indoor swimming pool) in Stuttgart for one night, invited 500 people and the press to an event with fashion show and several live bands, and with this legendary birthday indoor swimming pool party, he said goodbye to Stuttgart and went to New York.
The first appearance in USA was a three-minute short solo performance in the TV show "New York Nights". Instead of playing guitar the regular way, he scraped an old Les Paul across the floor of the TV studio.
| Video New York Nights |
A pop avantgarde performance with the Japanese bassist Luli in the Coca Crystal TV Show
| Video Coca Crystals TV Show NY | and further appearances in Manhattan clubs followed. After one year, he returned to Stuttgart.

The SDR Complaint
With lived out New York feelings - and also outraged about the former south German media landscape - he wrote a complaint letter to the South German radio SDR with clear facts on the "bad program". Instead of an answer, he received a call from the SDR 3 boss with the words "Well, have a go then!". This was Teflon Fonfara's unintentional application and the start of his cooperation with SDR and he invented the Swabian ladies "Frau Kächele & Frau Peters", a radio event that was in fact very advanced for 1986 and was later copied in its make by many. Teflon Fonfara broke a taboo, because he did not care about the "German radio standard" usual until then.
He supplied the SDR editorial staff with self-produced short radio plays that broke the listening habits of many up to now congenial listeners' ears: The dialogs were extremely fast, the sound recording completely exaggerated and with regard to the contents, he sailed close to the wind.
Teflon Fonfara: "At home, I could create the whole radio play according to my taste; for the contemporary sound engineer at SDR, this was by no means even-keeled entertainment, but a downright disaster. But this was exactly what was new and what the people wanted to hear."


An Orgasm Swing Wrote Radio History
Skits like "Die Orgasmusschaukel" ("The orgasm swing") or "Das Kehrwochen-Frühwarnsystem" ("The Kehrwoche early warning system") went down in radio history. Teflon Fonfara wrote one or two new stories every week, spoke both voices himself and produced everything single-handed in his small home studio in the south of Stuttgart.
Teflon Fonfara recalls: "Nobody ever complained, on the contrary - the fans showered me with self baked "Hefezöpfe" (plaited buns)."
The anniversary show in 1989 was a radio highlight. The magician Uri Geiler bent the Stuttgart TV tower in a two-hour live program, and when the TV tower was in fact not to be seen anymore on this foggy November evening, thousands rushed to Degerloch and the police were deployed.
For 12 years, the cult ladies Frau Kächele & Frau Peters were broadcasted, more than 800 episodes were created that almost always ended with the famous slogan "Unser Hefezopf - mit einem Haufen Butter drin" ("Our plaited bun - with loads of butter in it").
For the Südfunk television, Teflon Fonfara also played both ladies himself, and he presented the newest CD by the south German cult women as a guest in Stefan Raab's TV show on the VIVA music TV channel.
| Video Frau Kächele & Frau Peters ||
A total of four Frau Kächele & Frau Peters CDs, one album and the book "Hefezopf-Power" with original texts from the SDR 3 radio show were created | Gatzanis Verlag Stuttgart |.
All about Frau Kächele & Frau Peters here.
| up |


Radio Station Fusion Kills a Radio Cult
When the SDR and SWF radio stations fused in 1998, the cult series was not taken over in spite of thousands of petitions by fans to the new SWR radio station in Baden-Baden, "because these are Swabian figures, if at least one of the two would speak the Baden dialect ....".
That was the end of a radio cult. Since then, the radio stars have lived on in the internet or return to the radio via many a company contract, in the commercial break for a product.
Because of inquiries from cabarets and dialect theaters, Teflon Fonfara brought the cult event on stage in 2007 in a one-man show, disguised as a book reading.
| Video Opel Vectra |
| Video Hendrix-Performance |


With techno in VIVA
While the Swabian radio ladies also screeched musically to rock'n'roll rhythms or techno and house beats, Teflon Fonfara started other music projects as well and in 1994, he published the techno song "Schwarze Wolken" with the live sound of the mountain climber and actor Luis Trenker that was successful in the charts.
| Official Video Schwarze Wolken (black clouds) |
| TV: Fonfara in St. Ulrich |
| TV: Lampenfieber (stage fright) |
| up |

The Magic Between the Sounds
For the more tranquil sounds, he had his 10-string electric sitar custom-built, a unique instrument at that time, and broke new ground with the chirping Indian sound. Teflon Fonfara realized various world music projects with Indian singing bowls, tanpura, didgeridoo, electric sitar and percussions to chill by on festive events, spiritual festivals and open air concerts.
"The actual magic does not happen with the sounds, but between the sounds."
A program with fast electro beats developed from chill-out wellness concerts. This is how the world music band ASIAN STARS came into being.
The press: "This is world music from the high-tech universe."
| Video here |
| ASIAN STARS here |
| up |


SIRIUS-ENGEL is the name of a studio project. Unlike the up to now experimental music projects, this is plain, very reduced music. With German texts, the end of the world in 2012 and the time after that is sung about humorously.
| Videos here |
| SIRIUS-ENGEL Info |

Harmony and Healing - the Game of Everyday Life
The artist Teflon Fonfara is always in search of new styles and defines humorous entertainment as a remedial event. He lets mundane and spiritual principles be the "game of everyday life": "Humor, harmony and healing mean the same".
Teflon produces videos, film soundtracks and advertising jingles for products he considers fun.

Creativity Is Spiritual Intuition
In 2004, Teflon Fonfara opens his portal with a free Online Meditation, for refueling, relaxation and for self-healing that is used by thousands every month.

Books
2013
"Die Kraft der spirituellen Transformation - Humor, Harmonie, Heilung"
("The power of spiritual transformation - humor, harmony, healing").
2012
- "Die Gitarren-Verschwörung (The guitar conspiracy)"
- "Lyrik, Witz & Wahrheit" (Lyrics, humor and truth)
2011
- RELI aus gutem Grund
(Deutscher Katecheten-Verein),
Religious education for a good reason
(German catechist association), contribution as a co-author.
1998
"Frau Kächele & Frau Peters – Hefezopfpower (pleated bun power)"

More...

© Copyright by Teflon Fonfara